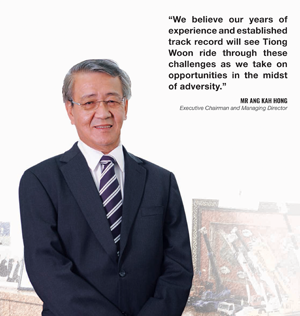 Extracted from Annual Report 2017
Dear Shareholders,
On behalf of the Board of Directors (the "Board") of Tiong Woon Corporation Holding Ltd ("Tiong Woon" or together with its subsidiaries, the "Group"), it is my pleasure to present Tiong Woon's annual report for the financial year ended 30 June 2017 ("FY2017").
FY2017 Performance
FY2017 was a challenging year for the Group, as we continued to face weaker demand in an increasingly competitive environment and a prolonged downturn in the offshore and marine industry. We believe our capabilities and strong track record as a one-stop integrated services provider in project management for heavy lift and haulage, marine transportation and engineering services has helped us navigate these challenging times.
The Group recorded lower business activities across its key business segments, particularly the Heavy Lift and Haulage segment, which led to a decrease in revenue from $139.4 million in FY2016 to $114.8 million in FY2017. In line with the lower revenue, gross profit was $26.6 million in FY2017, down from $33.2 million in FY2016.
Despite the fall in revenue, we made some headway with our cost control measures. Gross profit margin declined slightly from 24% in FY2016 to 23% in FY2017, reflecting the effectiveness of these initiatives.
The Group recorded other gains amounting to $2.6 million in FY2017, compared with other losses of $0.3 million in FY2016, which mainly comprised gain on the disposal of plant and equipment, operational exchange gain and gain from the disposal of a subsidiary. Overall, the Group recorded a net loss attributable to shareholders of $9.6 million in FY2017, as compared to the net loss of $9.7 million in FY2016.
The Heavy Lift and Haulage segment remained our largest revenue contributor, accounting for 86% of Group revenue, followed by the Engineering Services segment which contributed 9%. Geographically, Singapore remained the main contributor, accounting for 63%, followed by the Middle East which contributed 14%.
The Group's shareholders' funds as at 30 June 2017 was $246.7 million, translating into net asset value per share of $1.06. With careful management of our working capital needs, cash flows generated from operating activities was $28.0 million.
Pushing Forward Despite Headwinds
The year ahead is expected to remain fraught with challenges, as demand for heavy lift and haulage, particularly from the offshore and marine industry, continues to be soft. Nevertheless, we believe our years of experience and established track record will see Tiong Woon ride through these challenges as we take on opportunities in the midst of adversity.
While we continue to manage our costs and business risks to stay competitive, we will also continue to build on our lifting and haulage competencies, and improve our efficiency and productivity across our businesses, to prepare ourselves for an eventual turnaround in the industry. The Group remains focused on delivering high quality and reliable services, targeting complex and high value projects to drive the business..
Note of Appreciation
I would like to express my sincere appreciation to our Board, for their invaluable guidance and contribution. On behalf of the Board, I would like to express my deepest gratitude to our hardworking management team and staff, for their dedication to the Group and their tenacity during these challenging times. I would also like to thank our shareholders, for your vote of confidence in Tiong Woon.
Tiong Woon remains committed to enhancing value for our shareholders. Hence, we believe it is prudent to conserve our resources, and we look forward to your continued support as we ride out these challenging times and seek out new business opportunities to drive the business further.
Last but not least, I would like to thank our customers and business associates, for their continuous support to our business. Let us continue to build stronger business relationships, and emerge from these tough times together.
Thank you.
Yours sincerely,
Mr Ang Kah Hong
Executive Chairman and Managing Director