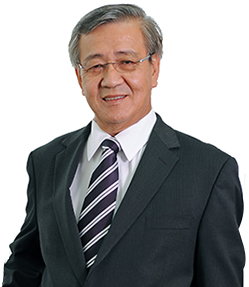 Extracted from Annual Report 2015
Dear Shareholders,
The financial year ended 30 June 2015 ("FY2015") has been a challenging year for Tiong Woon Corporation Holding Ltd ("Tiong Woon" or the "Group"), amid lower oil prices and economic uncertainty in the region. Business activities were reduced. We persevered in our efforts to actively manage our costs, and supported by our strong track record, Tiong Woon was able to record a profit for the year.
On the global front, Tiong Woon continues to be recognized for its expertise. We are happy to note that Tiong Woon is ranked as the 13th largest crane owning company worldwide by International Cranes and Specialized Transport, a reputable trade magazine, in its IC50 2015 survey.
We remain committed to focusing on our core businesses to deliver high quality and reliable services, and we continue to be on the lookout for strategic collaboration opportunities to grow our businesses.
In appreciation to our shareholders for your relentless support to the Group, the Board of Directors has recommended a one-tier tax-exempt final dividend of 0.4 Singapore cent per share.
Performance Review
In FY2014, we took steps to restructure ourselves into a leaner and more nimble organization in anticipation of a tougher operating environment ahead. This worked to our advantage in FY2015, as we faced a tough market with the decline in oil prices leading to the delay of some construction projects in the oil and gas and petrochemical industries. Given that Tiong Woon's business is mainly focused on the oil and gas, and petrochemical industries, turnover was 12% lower at S$145.7 million, as all segments recorded lower levels of business activity. Accordingly, gross profit margin dipped from 34% in FY2014 to 28% in FY2015. Net profit attributable to equity holders was S$12.0 million, a 46% decline over FY2014.
The Heavy Lift and Haulage segment undertook fewer heavy lift and installation projects, resulting in a lower turnover of S$128.5 million in FY2015. Profit before tax ("PBT") for this segment decreased by 28% to S$15.6 million in tandem with the lower turnover and gross profit margins. With fewer chartering projects, turnover from the Marine Transportation segment declined to S$8.9 million. PBT for this segment improved to S$0.7 million, as the projects undertaken yielded better margins. The Engineering Services segment recorded a lower turnover of S$3.0 million as it took on fewer engineering services projects during the year. The segment turned in a loss before tax of S$1.5 million due to lower turnover and gross profit margins from projects executed. Turnover from the Trading segment declined to S$5.3 million due to lower sales of equipment during the year. The Trading segment recorded a loss before tax of S$0.1 million in FY2015, compared with a PBT of S$0.6 million a year ago due to lower turnover and margins.
In terms of turnover by geography, Singapore was the largest market, accounting for 60% of the Group's turnover in FY2015. The Middle East was the second largest, accounting for 10% of FY2015 turnover. Turnover from the India market jumped 89% to S$8.7 million, making India the Group's third largest market, accounting for 6% of turnover. It was followed closely by Malaysia with turnover contribution of S$8.3 million.
In line with the lower turnover, the Group's administrative and other operating expenses also declined. Administrative and other operating expenses was 21.6% of Group turnover in FY2014. With its manpower rationalisation and job re-design efforts, Tiong Woon was able to lower these expenses to 20.5% of turnover in FY2015.
Earnings per share dipped to 2.57 Singapore cents and Net Asset Value improved to 58.25 Singapore cents per share as at 30 June 2015, from 56.04 Singapore cents per share a year ago. The Group's cash and cash equivalent balance was higher at S$19.8 million as at 30 June 2015, helped by its strong cash flow from operations. It had a net gearing of 42.8% as at end 30 June 2015, compared with 30.2% as at 30 June 2014, as the Group drew down on its loan facilities to fund the redevelopment of its premises.
Staying Resilient
The road ahead is expected to be a rocky one, as oil prices slowly stabilise but remain relatively lower. On top of that, global economic uncertainties could result in construction projects in the oil and gas, and petrochemical industries being delayed. This would lead to fewer projects available and the operating environment will be more competitive. We believe Tiong Woon's track record and expertise put us in good stead to ride out these challenges.
The Singapore market will remain an important market to the Group. According to the Building and Construction Authority ("BCA"), public sector projects are expected to sustain construction demand in 2015. An expected S$18 billion to S$21 billion worth of public sector projects are expected in 2015. The established petrochemical ecosystem at Jurong Island, which could support the petrochemicals industry in Singapore and attract high value investments, could also provide support for demand.
Around the region, there are potential business opportunities arising from various infrastructure developments, such as the on-going development of the Refinery and Petrochemicals Integrated Development ("RAPID") project in Pengerang, Johor, Malaysia. This project has commenced and it is expected to be completed by the first quarter of 2019.
As the Group continues to work towards strengthening its track record, we will remain mindful of the economic situations around the region as well as the volatilities in the foreign exchange markets, and tailor our approach accordingly to maintain our competitive edge and profitability. The Group will continue to leverage on its strengths of being a one-stop integrated services provider in project management for heavy lift and haulage, marine transportation and engineering services, and exploit the synergies arising from its capabilities in the various businesses to target more complex and high value projects.
The redevelopment of our headquarters premises at No. 15 Pandan Crescent is progressing well. Tiong Woon has invested in the state-ofthe- art facility, which will comprise the office premise, crane storage, warehousing and worker's dormitory under one roof. The redeveloped premises will also have a first-of-its-kind capacity for crane storage at the rooftop level, of up to 100 units of cranes.
Labour and other operating costs are expected to continue to rise. We will continue to manage our costs effectively and upgrade the skills of our workforce to increase productivity and operational efficiency in order to remain competitive. We are cautiously optimistic of our prospects but we remain committed to focus on delivering our best to customers and shareholders.
Note of Appreciation
I would like to express my sincere appreciation to the Board for their invaluable contributions to the Group. I would also like to thank our shareholders, for their confidence in Tiong Woon.
On behalf of the Board, I would like to extend our gratitude to our customers and business associates, for their continuous support to our business operations.
Last but not least, I would like to thank our committed management team and staff, without whom, we would not be able to remain resilient in the face of this challenging environment. Let us continue to bring the business forward day to day, as we continue to seek out new growth opportunities in Singapore and beyond.
Yours sincerely,
Mr Ang Kah Hong
Executive Chairman and Managing Director
30 September 2015