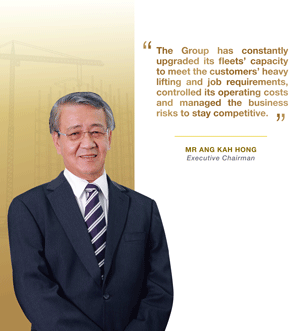 Extracted from Annual Report 2020
Dear Shareholders,
It was a challenging and competitive year. Leveraging on our strong capabilities and solid track record, we managed to secure a number of projects. We had looked forward to building on the momentum, but the outbreak of COVID-19 at the start 2020 has slowed down our momentum.
Since the Circuit Breaker ("CB") measures were implemented to slow the spread of COVID-19 in Singapore, the Group suspended most of its services to the customers in the construction sectors in Singapore. The Group could only resume its services when the customers' construction job sites were compliant ready for operation. Nevertheless, the Group continued to conduct its businesses in heavy lifting and haulage, marine transportation, plant maintenance work, project cargo transportation and storage services to the essential services sectors, especially the Oil and Gas, Marine and Logistics sectors in Singapore. The Group's overseas operations were also affected by the movement control and national lockdown measures.
Despite a challenging and uncertain operating environment, the Group was able to post a net profit of $7.5 million for its financial year ended 30 June 2020 ("FY2020"), more than double the $2.9 million it posted in the previous financial year ("FY2019"). Full year revenue has increased by 6% to $124.7 million in FY2020 as compared to $117.2 million recorded in FY2019, on the back of better performance across all its business segments in heavy lifting and haulage, marine transportation and trading.
Performance Review
Notably, the Group had achieved a modest growth in revenue in FY2020 due to the increased contributions from all business segments. The increase was attributable to operating activities before restrictive movements were imposed due to the outbreak of the COVID-19 pandemic.
The Heavy Lift and Haulage segment remained our largest revenue contributor, accounting for 89% of the Group's revenue. Geographically, Singapore remained the top revenue driver, accounting for 73% or $91.0 million, followed by Brunei which contributed 8% or $9.5 million.
As a result, gross profit increased to $43.0 million in FY2020 from $35.2 million in FY2019; and gross profit margin was higher at 35% in FY2020 from 30% in FY2019.
The Group recorded other income of $3.8 million in FY2020, an increase of $3.1 million or 431% from $0.7 million in FY2019. This was mainly due to receipt of government grant income such as jobs support scheme and foreign worker levy rebates. In addition, the Group reported other gains of $0.3 million in FY2020 as compared to other losses of $0.5 million in FY2019, mainly attributable to operational exchange gain in FY2020 as compared to operational exchange loss in FY2019. The Group made an impairment loss on receivables of $3.7 million in FY2020, an increase of $1.9 million or 110% from $1.8 million in FY2019, mainly due to further impairment loss on a long outstanding trade receivable in Saudi Arabia in view of uncertainty of recoverability. Other operating expenses were $26.3 million in FY2020, an increase of $2.3 million or 10% from $24.0 million in FY2019, mainly due to increase in manpower costs and depreciation of right-of-use assets. Finance expenses were $3.6 million in FY2020, an increase of $0.5 million or 16% from $3.1 million in FY2019, mainly due to higher interest expense arising from the recognition of lease liabilities following the adoption of SFRS (I) 16 Leases from 1 July 2019.
Consequently, the Group recorded a net profit attributable to shareholders of $7.6 million in FY2020, as compared to $2.9 million in FY2019.
The Group's shareholder funds as at 30 June 2020 was $259.2 million, translating to net asset value per share of $1.12. Earnings per share for FY2020 stood at 3.26 Singapore cents, up from 1.27 cents a year ago. With careful management of our working capital needs, the Group's cash and cash equivalents stood at $39.4 million as at 30 June 2020.
Building on Solid Foundation and Sustainable Future
The Group has consolidated its resources by concentrating on its core businesses and key markets; and has scaled back the operations in some of the non-performing overseas subsidiaries.
The Group has constantly upgraded its fleets' capacity to meet the customers' heavy lifting and job requirements, controlled its operating costs and managed the business risks to stay competitive.
It has embarked on various programs to build capabilities such as human talent retention and succession plans, productivity enhancement and optimization of the fleet of equipment and to achieve more sustainable solutions for its businesses. Such programs will enable the Group to react and grapple to the difficult and changing environment.
Dividend
The Board of Directors is pleased to recommend a final tax-exempt dividend of 0.3 Singapore cent per share for FY2020 to reward the shareholders for their continued trust and support. The proposed dividend is subject to approval by shareholders at the Annual General Meeting on 28 October 2020.
Words Of Appreciation
On behalf of the Board of Directors, we would like to thank our shareholders, employees, management, customers, business associates and banks for your unwavering support and confidence in the Group. We will continue to work hard and bring Tiong Woon to new heights in the coming years and we are determined to pull through and emerge stronger from this crisis.
Thank you.
Yours sincerely,
Mr Ang Kah Hong
Executive Chairman