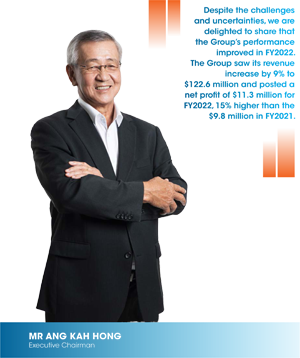 Extracted from Annual Report 2022
Dear Shareholders,
The Group's businesses continued to demonstrate resilience, following the progressive return to normalcy of the COVID-19 situation and recovery in economic activities, during the financial year ended 30 June 2022 ("FY2022"). Leveraging on its capabilities and solid track record, the Group experienced strong demand for its heavy lift and haulage services to the oil and gas, petrochemical, infrastructure and construction sectors, particularly in Singapore.
India was another bright spot for the Group in FY2022 as the Group benefitted from an increase in demand for its heavy lift and haulage services and executed more projects there. On the other hand, activities in Brunei were more muted and there was no new project secured in FY2022. The Group will continue to actively seek new opportunities in our markets.
For FY2022, the Group endeavoured to mitigate the effects of geopolitical uncertainties, inflationary pressures, supply chain disruptions and rising interest rates.
Despite the challenges and uncertainties, we are delighted to share that the Group's performance improved in FY2022. The Group saw its revenue increase by 9% to $122.6 million and posted a net profit of $11.3 million for FY2022, 15% higher than the $9.8 million in FY2021.
Performance Review
The Group saw an overall increase in revenue for FY2022 owing to higher contributions from Heavy Lift and Haulage and Trading segments.
Heavy Lift and Haulage segment remained our largest revenue contributor, accounting for 95% of the Group's revenue. Geographically, Singapore remained the top revenue driver, accounting for 78% or $95.7 million, followed by India which contributed 7% or $8.8 million.
Gross profit was higher at $49.3 million in FY2022, as compared to $42.4 million in FY2021. Gross profit margin also increased from 37.6% in FY2021 to 40.2% in FY2022 mainly due to better performance achieved by the Heavy Lift and Haulage segment.
The Group recorded other income of $2.6 million in FY2022, a decrease of $1.9 million or 42% from $4.5 million in FY2021, mainly due to lower government grant income arising from Jobs Support Scheme. Other losses - net was $0.5 million in FY2022, a decrease of $1.4 million or 75% from $1.9 million in FY2021, mainly due to a decrease of $2.0 million in operational exchange loss offset by a decrease of $0.5 million in gain on disposal of property, plant and equipment.
Amid a challenging and uncertain credit environment, the Group made a net impairment loss on receivables of $2.2 million in FY2022, an increase of $0.6 million or 43% from $1.6 million in FY2021. Other operating expenses were $29.0 million in FY2022, an increase of $3.2 million or 12% from $25.8 million in FY2021, mainly due to higher staff costs and utility expenses.
Consequently, the Group recorded a net profit attributable to shareholders of $11.4 million in FY2022, as compared to $9.9 million in FY2021.
The Group's shareholder funds as at 30 June 2022 stood at $280.9 million, translating to net asset value per share of $1.21. Earnings per share for FY2022 stood at 4.90 Singapore cents, up 15% from 4.25 Singapore cents a year ago. With careful management of our working capital needs, the Group's cash and cash equivalents stood at $56.0 million as at 30 June 2022.
Building on Solid Platform For Growth
The Group has consolidated its resources by focusing on its core businesses and key markets, and has scaled back operations in some of the under-performing overseas subsidiaries.
The Group has continually upgraded its fleet's capacity to meet the customers' heavy lifting and job requirements, controlled its operating costs and managed the business risks to stay competitive.
As India is attracting investments in the chemical and petrochemical industries, we are pleased to share that we have secured a number of new heavy lift projects in these sectors. This is a significant step towards raising our heavy lift profile in the country.
We will continue to intensify our digital transformation, by going paperless and using digital technology to reduce our carbon footprint. As part of our long-term vision towards a sustainable future, renewable solar energy will be utilised in one of our yards locally.
The pandemic has transformed the world and how we run our businesses. The Group will continue to embark on various programs to build capabilities such as human talent retention and succession plans, enhance and digitalise its operations, optimise its fleet of equipment and to achieve more sustainable solutions for its businesses. These programs will enable the Group to better adapt and respond to challenges and opportunities amid this everchanging environment.
Dividend
Notwithstanding the uncertain operating environment, the Board of Directors has proposed a final tax-exempt dividend of 0.35 Singapore cent per share, as well as a special dividend of 0.15 Singapore cent per share for FY2022 to reward our shareholders for their commitment, trust and support. The proposed dividend is subject to approval by shareholders at the Annual General Meeting on 27 October 2022.
Words Of Appreciation
On behalf of the Board of Directors, we would like to express our gratitude to shareholders, employees, management, customers, business associates and bankers for their steadfast support and confidence in the Group. We endeavour to rise above these rapidly evolving challenges and create sustainable value for all stakeholders in the coming years.
Thank you.
Yours Sincerely,
Mr Ang Kah Hong
Executive Chairman