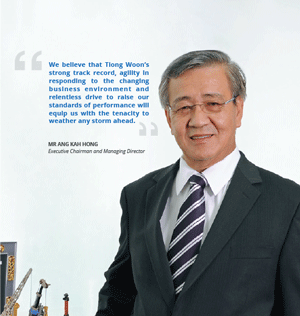 Extracted from Annual Report 2016
Dear Shareholders,
Tiong Woon Corporation Holding Ltd ("Tiong Woon" or "the Group") has scaled another challenging year in the face of the weakened global demand and currency volatility. Despite the challenging business environment, we have managed to achieve Group's turnover of S$139.4 million for the 12 months ended 30 June 2016 ("FY2016"), 4% lower than the S$145.7 million recorded in the previous financial year ("FY2015").
Performance Review
The decrease in revenue in FY2016 was mainly due to decrease in contributions from Heavy Lift and Haulage, Marine Transportation and Trading Segments.
Gross profit was S$33.2 million in FY2016, a decrease of S$7.4 million or 18% from S$40.6 million in FY2015. Gross profit margin was 24% in FY2016 as compared to 28% in FY2015. This was mainly due to the lower contributions from Marine Transportation and Engineering Services segments.
Other Operating Expenses were S$37.3 million in FY2016, an increase of S$9.2 million or 32% from S$28.1 million in FY2015. This was mainly due to higher non-cash net impairment loss on trade receivables (including write-back) of S$9.8 million in FY2016 as compared to S$1.0 million in FY2015.
Loss before Income Tax was S$8.7 million in FY2016 as compared to a profit before income tax of S$14.7 million in FY2015 mainly due to the weaker performance for all segments.
Geographically, Singapore remained the main contributor, accounting for 54% of turnover. Middle East and India were the other two major markets that made significant contributions to the turnover. The Middle East contributed S$29.2 million or 21% of turnover while India contributed S$12.9 million or 9% of turnover in the current financial year. The overall decrease in turnover was mainly due to a decrease in Heavy Lift and Haulage projects executed in Singapore and Malaysia offset by an increase in Heavy Lift and Haulage and Engineering Services projects executed in the Middle East in the current financial year.
As at 30 June 2016, the Group's shareholders' funds stood at S$257.1 million, translating into net asset value per share of S$1.11.
Raising Standards
The operating environment continues to be challenging amid the slowdown in demand in the key Asian/ASEAN markets we operate in. The ongoing public sector infrastructure development in Singapore is expected to support the impetus for heavy lift and haulage services. The Singapore market will remain an important market to the Group.
As the Group continues to work towards strengthening its track record and focus on our core competencies, we will remain mindful of the economic situations around the region as well as the volatilities in the foreign exchange markets, and tailor our approach accordingly to maintain our competitive edge and improve business performance.
Tiong Woon is ranked as the 14th largest craneowning companies worldwide by International Cranes and Specialized Transport, a reputable trade magazine, in its IC50 2016 survey.
We believe that Tiong Woon's strong track record, agility in responding to the changing business environment and relentless drive to raise our standards of performance will equip us with the tenacity to weather any storm ahead.
As a one-stop integrated heavy lift specialist and service provider, we will continue to deliver high quality and reliable services; and integrated solutions to target complex and high value projects and grow the business. We will remain focus on building on the strength of our Lifting and Haulage competencies, particularly in the infrastructural sector.
The re-development of our headquarters premises at No. 15 Pandan Crescent has been successfully completed in January 2016. Tiong Woon has invested in the state-of-the-art facility, which will comprise the office premise, crane storage, warehousing and worker's dormitory under one roof. The re-developed premises will have a first-of-its-kind capacity for crane storage at the rooftop level, of up to 100 units of cranes. More importantly, the warehousing facility will enable our logistic division to optimise our new storage capacity to extend our new services and solutions for our customers.
In view of the tightening labour supply, increasing costs and challenging environment, we will continue our effort to effectively manage our operating costs and business risks to remain competitive. We will tighten our credit control and exercise financial prudence to safeguard the long term interest of our shareholders.
As part of our on-going outreach to the community, we have embarked on corporate social responsibility programme s to support the less privileged in society. In FY2016, we have supported the Disabled Association of Singapore and Lakeside Family Services. We will continue to play our part to work with local communities on various welfare programmes.
Dividends
The Group remains committed to continuously reward shareholders for their unwavering support. The Board of Directors has proposed a final dividend of Singapore 0.2 cent per share (post share consolidation) for FY2016 which will be voted upon by the shareholders during the Group's upcoming Annual General Meeting. As the Group had completed the share consolidation exercise on 26 February 2016, this final dividend for FY2016 was calculated based on the number of post consolidation shares of 232,235,253 ordinary shares.
Note of Appreciation
I would like to express my sincere appreciation to the Board for their invaluable contributions to the Group. On behalf of the Board, I would like to thank our shareholders for your confidence and trust in Tiong Woon. I would like to extend our gratitude to our customers and business associates, for their continuous support to our business.
Lastly, I would like to thank our management team and staff for their unwavering commitment and contributions in the face of this challenging environment. We will grow from strength to strength in building our market leadership in our core business and nurturing new growth opportunities in Singapore and beyond.
Thank you.
Yours sincerely,
Mr Ang Kah Hong
Executive Chairman and Managing Director
10 October 2016